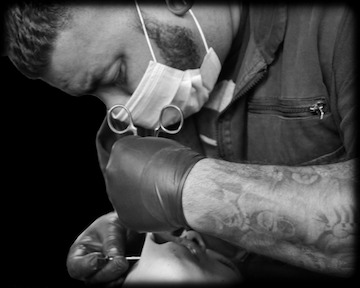 Clifton Santiago
Clifton is a Professional Body Piercer / Body Art Technician in Hollywood CA.
Highland Tattoo & Body Piercing
6816 Hollywood Blvd
Hollywood, CA 90028
+1(323) 460-4922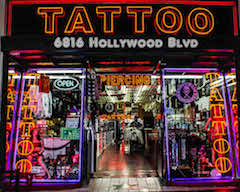 My Schedule:
| Day | Hours |
| --- | --- |
| Monday | Appointment Only! |
| Tuesday | Piercing from 4:00 p.m. to 3:00 a.m. |
| Wednesday | Piercing from 4:00 p.m. to 3:00 a.m. |
| Thursday | Piercing from 4:00 p.m. to 3:00 a.m. |
| Friday | Piercing from 4:00 p.m. to 3:00 a.m. |
| Saturday | Piercing from 4:00 p.m. to 3:00 a.m. |
| Sunday | Appointment Only! |
Additional Contact Details:
Facebook, Tumblr & Twitter
Biography:
I was born in Los Angeles, California. I am first generation American, as my parents were born in Havana, Cuba . I grew up in a very cultured household. My father, "may he rest in peace" was a commercial fisherman and my mother "may she rest in peace" was a retired school teacher. I am the oldest of three children, I have a younger sister named Carol and a younger brother name William. I also have a beautiful 6 month old baby girl I named Scarlett.
I began my body piercing career very young, interning at sixteen years old at the legendary Los Angeles Tattoo in Hollywood, California. I have been practicing body piercing professionally for over 20 years. I have a vast experience in traditional piercings as well as exotic piercings, from basic nostril piercings to complex piercing projects, I am both talented and experienced in all facets of body piercing.
I am also a Professional Photographer and a Website Developer, but my time off is spent enjoying a good movie, reading, cycling, camping, and just being creative. You may also run into me in Korea-Town, Los Angeles, California dining at one of my favorite Korean BBQ restaurant with friends and family. I'm known to be an avid connoisseur in good food and beer. My favorite drinks are Woodford Reserve, Cremant de Bourgogne Bailly Lapierre, and Erdinger Weissbrau.